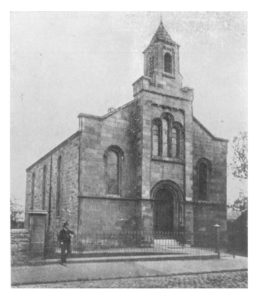 You were asked to identify the Strathbungo building below, and its location.
Now the newsletter is out, I can reveal this was the first Strathbungo Parish Church, built in 1839, but demolished sometime after 1883. The photo dates from around 1879.
The second church was built on the same site, reusing much of the stone, in 1887-88. The facade of the second church still stands on Pollokshaws Road, even though the rest of the church was demolished in 2006. The facade was incorporated into the modern flats. The current view from the same spot is shown on the right.
You can read more about Strathbungo's church in the newsletter, when it drops through your door, or by downloading it from this blog.