Bring in the New Year with all your Strathbungo neighbours.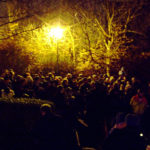 The procession of revellers usually begins at 11:30pm on Nithsdale Road and in Vennard Gardens before winding its way to the venue – usually somewhere in the vicinity of Moray Place.
Just join in when you hear the noise-makers passing your door, or come straight to the street. Music, and sometimes mulled wine and festive treats, will be available from 11:45. Wrap up warm, bring an instrument and help make a Hogmanay to remember for all the family.
Bungo at least 2 metres from the Bells
This year, 2020-21, the place to be is at home, sadly. While we have survived rain, snow and storms and never cancelled, this year may be too much. But we're working on something…do you have any better ideas?