Bungo in the Back Lanes Map
The 2017 event starts at 1pm on Saturday 17th June. Here's the map of what will be where: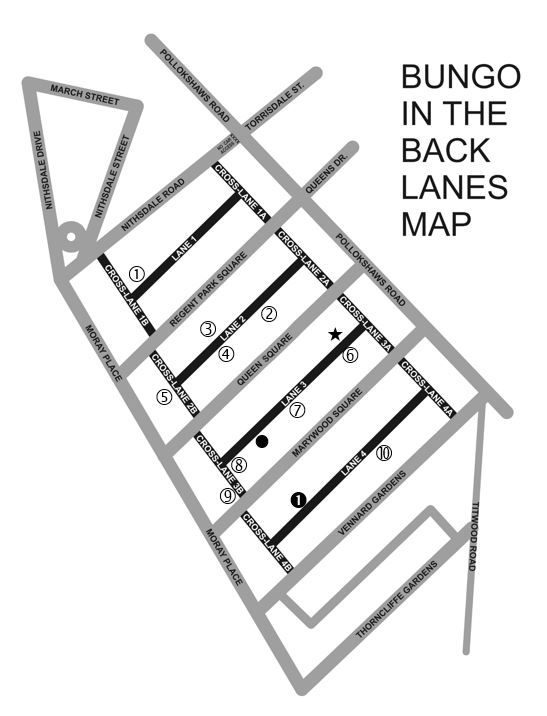 Lane 1
1. Children's Garden (& Lost Children)

hosted by Merry-go-round

Face Painting

Lake and Loch

Jazz quintet

Second-hand books

Lane 2
 
 
2. Loch Fyne Seafood

3. Little Takoyaki – Japanese Street Food

"4. Mulberry St Bar & live music/DJ

5. Rosie's Second-hand books, Craft and Vintage

Glad Cafe Bar

Bric a brac

Cakes and drinks

Lane 3
 
 
* Society Stall, tombola, First Aid & community area

6. Mulberry St Bar & live music/DJ

7. Tea Garden & string quartet

TOILETS

ˆ8. New Victoria Gardens

‰9. Hidden Gardens

Lane 4
 
 
10. Bungo Buried Treasure

1 (black). Pizzacato & Dear Green Roasters

Random Art – handmade & recycled arts and crafts

Stall for Shawlands Primary Playground Project

Plants and toys
For future events, if you'd like to be included on the Lanes map, get in touch by emailing bitbl@strathbungo.co.uk.
More info on the event for stall holders and visitors, volunteers, and for general updates, see Facebook.