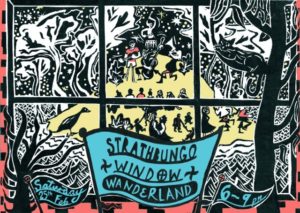 A MAGICAL WALKING TRAIL TRANSFORMING STRATHBUNGO INTO A PLAYFUL OUTDOOR GALLERY!
FREE EVENT
ALL ARE WELCOME!
Please join us this Saturday 25th February, from 6-9pm.
Everyone is invited to wander around Strathbungo and enjoy residents' window displays.
We hear rumours of bands in front rooms, a pop-up tattoo parlour, a human fruit machine, disco balls and bubble machines…. But the magic of Window Wanderland is that no one will actually know what's happening until the night itself.
If you live in the area and are still to register, add your home to the online map. A 'display' could be as simple as a candle, book, fairy lights or image in a window. Or you could go all out and stage a performance in your front room or project onto your building! Simple or spectacular … it's completely up to you. Anything goes! And if you need some inspiration or practical help, there's a free drop-in workshop at the Tramway this Tuesday 21st February.
If you have any questions or would like to help spread the word about the event, please feel free to email us.