Background and update
After the Strathbungo Society heard that Network Rail proposed to clear all vegetation along Moray Place, we wrote to them copying in our local elected political representatives and politicians to express our concern.  Ten days ago Network Rail responded to us 20 Sept Strathbungo Society NR Response.  The Strathbungo Society has carefully considered this and believes that it raises far more questions than it answers so on Friday we responded to them.   Set out below are what  we believe are the substantive issues at stake.  We would welcome comments either on social media or to secretary@strathbungo.co.uk.   We hope  local residents, and other people living along the Glasgow -E.Kilbride Line who will be affected by the proposed works, find it helpful and that it helps with further lobbying/campaigning.
The Society will use what is set out here – along with any feedback we get – as the basis for discussions for Network Rail.  We are pleased to be able to report that Network Rail staff have agreed to meet later this week with us and our MSP, Nicola Sturgeon.  We are grateful to her for setting up the meeting on our behalf.    We will provide a further update after the meeting has taken place along with progress on a number of other actions.
Purpose of work
The purpose of the work proposed by Network Rail is unclear.  On the one hand they suggest its due to electrification.  The invitation letter to their  information event suggested it was due to plans to electrify the line and their letter of 20th Sept starts by clearly stating the clearance work:
" is to enable site and geological investigation (SI/GI) which will inform the design and development of an enhancement programme, including electrification, for the lines to East Kilbride (and Barrhead) as part of the rolling programme of electrification. 
 There are then suggestions, although it is never stated clearly in their letter, that the proposals are part of normal vegetation management:
"It should be clarified that this is the specification of vegetation management that would be applied irrespective of the potential of a future electrification project."
Moreover at the information session our representatives were told that if electrification was not being proposed they would do the work anyway.
To add to the confusion the letter states that:
"The first step to enable this change is the removal of large mature trees which pose the biggest safety risk to the railway now and potentially an electrified railway in the future.
 So, is the work about removal of large mature trees – and if so which – or is it about removal of all vegetation?  The facts are there are very few large trees on this section of the line in particular.  The felling that took place in 2004 removed a great number.
And is the work about rail safety now or electrification in the future?
Our first request to Network Rail therefore is that they clarify the purpose of the work.
Electrification, site investigations and vegetation
While we have not formally consulted on the proposed electrification, the Strathbungo Society is very supportive of electrification in principle as we believe it would reduce noise and pollution for local residents and benefit many other people.  Our main concern about electrification is that should if it goes ahead appropriate plans are included to safeguard the pedestrian bridge which Network Rail has recently renovated to widespread acclaim.  Network Rail have confirmed the bridge is too low for electric lines to pass under.  We accept this is an issue for future consultation but believe that as part of electrification projection a solution needs to be found that enables the pedestrian footbridge to be retained.
If the proposed work is indeed to enable site investigations for future electrification, Network Rail's standard specification for vegetation work appears inappropriate, over the top and unnecessarily costly.   The pillars supporting electric lines are both spaced out and not particularly large so require a relatively small footprint and foundations.  It is completely unnecessary to clear all the ground of vegetation to enable these site works to take place and Network Rail clearly needs to develop a separate specification, along with Transport Scotland who are funding the project, which is appropriate for site works.
In terms of future management of trees should electrification go ahead, given the timescale of the project there is no need to start the work now.  Even more importantly, however, the neighbouring line at Pollokshields West station just across Darnley Rd clearly shows that electrification and mature trees are quite compatible.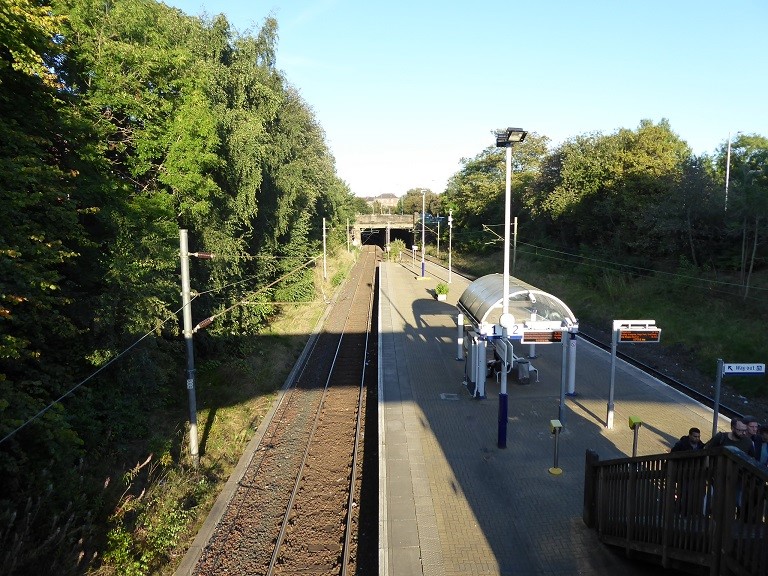 In the light of this,  we have asked Network Rail to justify why such extensive vegetation and tree removal is required either for site investigations or future vegetation management if electrification goes ahead.
Adequacy of information provision
Network Rail did not intend the information events to be treated as any form of consultation.  That we believe is a fundamental failure of Network Rail governance going back years, contrary to the recommendations of the Varley Report on "Valuing nature,  a railway for people and wildlife" (see here) that was published last year and contrary to the Scottish Government's desire to involve local communities in decisions that affect them.
The quality of the information provided to the local community was very poor.  The invitation letter was very vague about the extent of the works proposed and said nothing about the minimum amount of vegetation that would be cleared would be 6m on either side of the line.
In their letter Network Rail claims:
"On the night of the drop-in attended by members of the Strathbungo society, we advised ways in which documents could be accessed. As you will appreciate, many of these documents cannot be issued in an uncontrolled manner as they can include locations / information on protected species. Some of these are also confidential for commercial reasons. We also shared fully and openly contact information on how to seek further information or to escalate complaints."
 "At the drop-ins and in advance on social media, we used images and video which showed the extent of the work proposed and how we go about delivering this work and have been particularly open about the visual impact this would have on the lineside."
We believe this to be totally misleading.
If  Network Rail had conducted surveys that found protected species they would not be able to propose clearing all the vegetation from the line and would have had to indicate to us areas which might not be affected.
At the event there were no plans provided for what was proposed for any part of the line just general photos showing vegetation management before and after.  We managed to photograph a couple.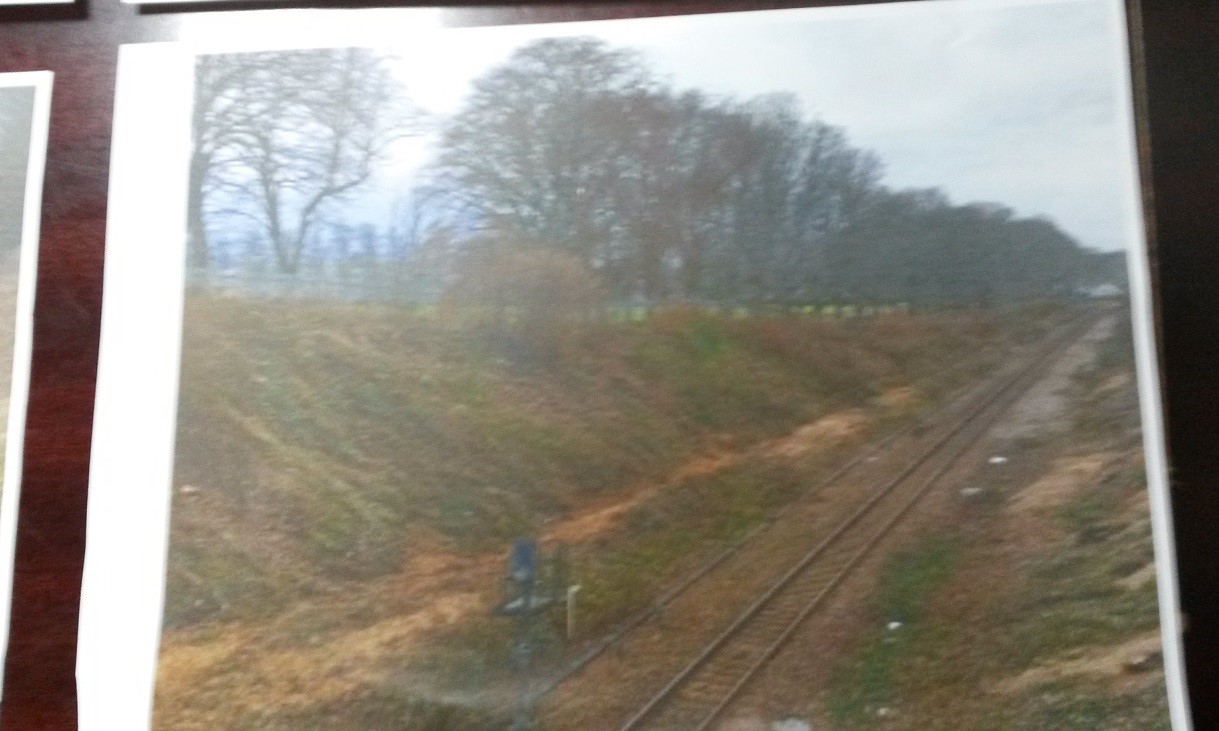 While the Network Rail letter refers to appropriate assessments having been undertaken, when we asked what these were we received no clear answer and were told we could ask the Network Rail helpline and would probably have to submit a formal information request.
We don't believe such poor information sharing is acceptable and have formally requested under Freedom of Information laws that Network Rail provide us with copies of ALL assessments that have been undertaken in respect of the proposed vegetation work on the Glasgow – East Kilbride line (e.g. the wildlife and habitat surveys they claim to have completed in their letter and the tree surveys).
Specification for vegetation management
The Network Rail letter claims:
 "The work as planned is in line with Network Rail's normal approach to managing lineside vegetation. It is the same specification as has been applied on tree removals in other urban locations both with Overhead Line Electrification (OLE) equipped lines and as we prepared for other electrification projects."
 AND
 "Network Rail is using its standard specification for management of lineside vegetation. For matters of compliance in this regard, it is something which is regulated by the Office of Road & Rail (ORR) and for which Network Rail is under considerable scrutiny."
What Network Rail fail to say is that they have also been under considerable scrutiny (viz. the Varley report, 2018) for their failure to manage vegetation properly and the way that they  communicate with the public and that the UK Government, which is ultimately responsible for Network Rail,  has committed to change this.
At the information session we asked for written copies of policies and specification relating to vegetation management.  We were given no clear answer as to what if any written documents exist but were told the new standard was to clear ALL vegetation for a minimum distance of 6m from the trackside and that for an unlimited distance beyond this Network Rail MIGHT clear all vegetation.  Network Rail have still failed to provide us with any clear specification.
We have, however, found a graphic of the New Standard for vegetation management in the Varley report and which that report stated was due to be adopted in April this year:
We have asked Network Rail to confirm whether this is actually the new standard they are working to.  If so, our first point is that within the action zone, the requirement is to schedule regular vegetation management – which we would welcome – but does not appear necessarily to require complete removal.  Our second point is that the alert zone is clearly about keeping an eye on trees which might with age or a result of disease pose a threat to the line.   Network Rail should be able to identify such trees through tree surveys and we have asled them to confirm that ANY tree surveys by a competent professional have been carried out for trees situation more than 6m from the outside rail.
Environmental impacts
The Network Rail  letter states:
"Ahead of this work, we have completed environmental assessments in relation to wildlife and habitat on or around the railway. We acknowledge that the removal of trees and vegetation cannot be done without some short-term disturbance and potential displacement of wildlife. Through this work we will though change the nature of the railway environment which over time, will continue to support lineside biodiversity."
It is not credible to claim that removal of trees and vegetation will just lead to "short-term disturbance and potential displacement of wildlife".  If the tree that birds' nest, roost or find food on is permanently removed then that is a huge loss of habitat. That is true for every insect, mammal or plant.  Network Rail cannot support lineside biodiversity to remove trees and vegetation without a guaranteed, scheduled, clear and deliverable plan which is location specific to replace what has been lost with something equivalent but of less concern to rail operations.
Network Rail also state:
 "we will consider ways in which we can work to support re-planting locally (off the railway) if appropriate."
This contradicts assurances given at the events that trees would be replaced. Now it's to be "considered" and it would not be on the trackside.  It is also dependent on being seen as "appropriate". This offers no reassurance to any trackside neighbours and confirms that biodiversity is not going to be maintained and certainly diminished.
We are grateful for the acknowledgment in the letter that the Strathbungo Conservation area boundary runs down the middle of the railway and also for the explanation for when Network Rail can go ahead with vegetation management in conservation areas without consent:
"While we acknowledge that the Conservation area boundary is on Network Rail's land we are exempt from needing consent to manage our lineside vegetation where the tree is situated on operational land and the work is necessary for:
– the safe operation of the undertaking,
– inspection, repair or renewal of apparatus of the statutory undertaker, or
– to carry out permitted development"
The last two of these criteria clearly do not apply in this case and we dispute that vegetation management to the extent that Netork Rail have indicated – basically anywhere – is necessary for the safe operation of the undertaking.