The planning application for the second of the Arnold Clarke sites (134 Nithsdale Drive) has been submitted, and can be viewed at Glasgow City Council's Planning Portal, using reference 23/01956/FUL.
Whatever your views, you can respond before the deadline of 22 September. At 104 flats, this is possibly the largest development in Strathbungo area since the 19th century, so please consider making your views (positive or negative) heard. You can find some useful guidance on responding to planning applications at Planning Law Blog.
It is worth noting that the site is not within the Conservation Area but is directly adjacent to it. The site is surrounded by Listed Buildings at Moray Place, Salisbury Crescent and Darnley Street (there is a map on the BungoBlog).
Editor's note:
Thanks to Toby for submitting this.
Here's an aerial view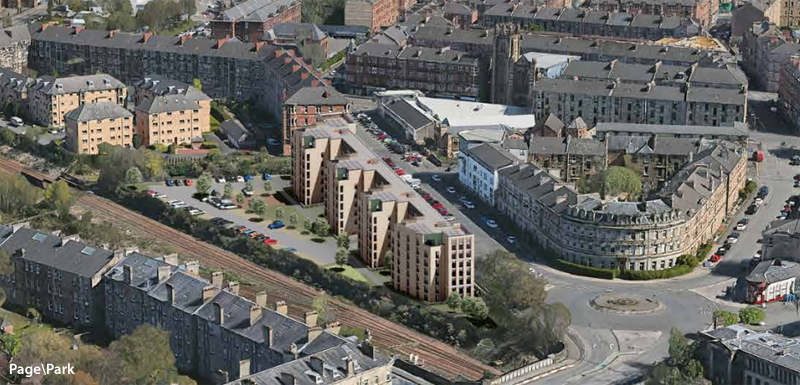 The architects state "Our design thinking seeks to 'fill the gap' complementing the scale and aspirations of surrounding buildings, with particular reference to the work of Alexander 'Greek' Thomson, whose Category 'A' listed terrace, Moray Place faces onto the site."
Note here's what the plan looked like as originally proposed in March. While the block is similar, note how the detailing and the curved end features have been dropped and an extra flat stuck on each end instead.