Are you a violinist, cellist or accordionist looking for an local ensemble to play in?
The Viennese Ensemble is a group of musicians from Glasgow who perform a wide repertoire of Viennese and Eastern European music. Since forming in 1999, the group has played at bar mitzvahs, bookshops and weddings, at charity events, in museums, churches, hotels, Princes Square and the Merchant City.  It has also given more formal concerts at Mugdock Country Park, Adelaides Church and St Andrews in the Square.
The Ensemble was founded by Barbara Olding, a well known pianist and music teacher in the south side of Glasgow.
"The Viennese Ensemble is a mix of professional and talented amateur musicians.  We play a selection of popular, light music from Hungary, Romania, the Balkans and of course Vienna." – Barbara
The Viennese Ensemble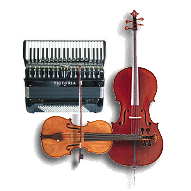 already has a couple of members from Strathbungo, including myself.  I can honestly say that the repertoire is a joy to play, and that the ensemble is a charming and personable group of all ages, from university students to retirees.  We rehearse on Wednesday evenings at 7:30, in the neighbourhood just south of Queen's Park.  If you think you might want to join us, please e-mail me at "deidrem -at- btinternet.com" or Daphne Wassermann at "daphne -at- aquarius1000.plus.com"