A request for help from MCR Pathways…
"My mentor tells me that I am good enough. She makes me believe in myself as well. That alone makes me feel more confident. I haven't had a lot of times where someone tells me that I'm good enough or 'you can do it'."   Shannon, MCR mentored young person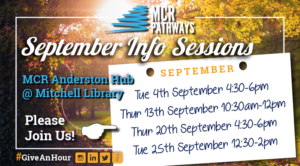 At MCR Pathways, we know that all young people are talented. However, Scotland's care-experienced and disadvantaged young people face challenges beyond their control that make it more difficult for them to succeed. Our vision is that every young person in Scotland gets the same education outcomes, career opportunities and life chances as every other young person, no matter their home circumstances. And we need your help to make this happen.
MCR recruits and trains volunteer mentors who are matched with a young person based on personality, interests and career aspirations. Mentors meet with their young person at their school for just one hour a week and provide a compassionate, listening ear. Our mentors come from all walks of life but what they share in common is their desire to help Glasgow's young people.
One of our mentors, John Hetherington, says, "I have a young family and I felt mentoring would help me understand some of the things they may encounter. It has opened my eyes and will definitely help me to relate to my own children better."
Through meeting each week, mentors and young people create a supportive relationship. It's this relationship that makes the difference. In 2014, before mentoring was extended, only 48% of care-experienced young people left school to a positive destination while on 2018, 86% of our mentored young people did.
Can you #GiveAnHour and mentor a young person? We're in all 30 secondary schools and the programme is flexible to fit around your schedule.
We're hosting info sessions every week at our office at the Mitchell Library and can also come out to you! Sign up today at http://mcrpathways.org/get-involved/