A reminder to those interested in joining us for carols around Strathbungo that we plan to kick off at the Bungo Restaurant at six o'clock (pm that is not am) on Friday and spend the next couple of hours entertaining the gentlefolk of Strathbungo with a selection of carols.
The weather has perked up a little from last week but come prepared for rain and cold if not snow. If you have torches, lanterns, santa hats, reindeer antlers etc do bring them along. We have managed to secure the services of a clarinetist (you're a star Dee) to lead the carols but anyone with a B flat instrument or who can transpose please do bring it along.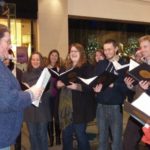 We need singers as well as folk who can knock on doors to collect for Shelter, who we will be collecting for this year. The more the merrier so do bring along the kids (Santa only brings presents to children who have sung carols!), the elderly parents (same argument, but with sherry) and neighbours you come across on the way.
A few of us are meeting at my place this evening at eight o'clock for a practice session so if you are interested in joining us for that do drop me an e mail and I will send you my address in Strathbungo.